External Opportunities
External Opportunities
External opportunities
To enable us to continue to provide our students with a wide variety of experiences and opportunities, we want to ensure our students are easily able to access external opportunities that will support them in their personal development and also with their career and education pathways, whatever they may be.
Apprenticeship opportunities
Please follow the links below for the latest apprenticeship opportunities and information.
Please click here for BT apprentice leaflets.
Please click here for BT apprentice attraction events presentation.
https://www.gov.uk/apply-apprenticeship
https://www.indeed.co.uk/Apprenticeships-jobs
https://www.lincolncollege.ac.uk/courses/under-19s-courses-apprenticeships/under-19s-apprenticeships/
Please click here for NHS healthcare assistant apprentice information. For the job specification please click here
For information on the latest Royal Navy apprenticeships please click here.
Engineering Apprenticeship
WE Schools is pleased to share with you an exciting apprenticeship opportunity available with our partner Boots. This is a 4 year Engineering Apprenticeship programme within their state of the art automated warehousing and distribution facilities. The apprenticeship is available to those 16 years old and over and starts this September.
Apprentice engineers will gain the skills required to maintain an automated operation to world class standards of equipment performance and reliability. The first two years of the apprenticeship will be a training phase spent full-time at the bespoke Toyota Apprentice Development Centre at their manufacturing site in Burnaston, Derby. Apprentices will also take part in personal development courses such as, teamwork, communication and planning skills through a series of outward bounds activities.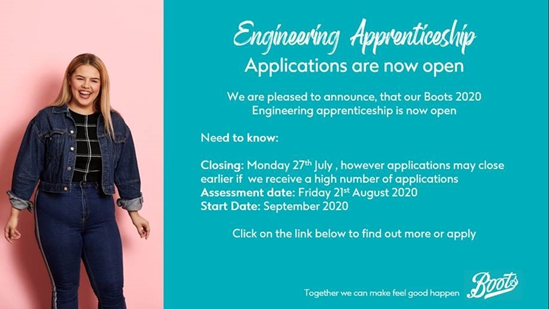 Click the following link to apply or to find out more information: Click here to apply
Traineeships
Please follow the link below for the latest traineeship opportunities.

Keep Doing Good with NCS
Many of you will have heard of National Citizen Service (NCS) in assemblies or on social media, some of you may have even signed up! Due to COVID-19 this year the programme is a little different, but there are still 2 week programmes available throughout August for you to sign up to!
This is your chance to get back out into the world with your mates, get some new skills, make even more friends AND make a difference by getting your communities back on their feet. This summer programme is called "Keep Doing Good".
We are following all Government guidelines with regards to COVID 19 to ensure that the program is safe for all.
NCS this summer will be a 2 week programme delivered across August in your community, where you will work in teams guided by NCS staff to Keep Doing Good.
Week 1 will give you new skills such as leadership, team building, presentation skills and the ability to plan your own social action project. This will include workshops and activity sessions.
Week 2 will allow you to create and carry out your very own social action and volunteering projects. Helping the community where it needs it the most.
What are the benefits:
It's free
You can make brand new friends
Learn new skills that can be used for work and education
Enhance your CV
Make a difference
In your local area
Get your voices heard, we want to hear all your great ideas for the future
Get out into the world
Build on your future
Volunteer your time to help others
It's an exciting opportunity and the best thing is…it's completely free. So if you're looking for a new challenge or a chance to get out the house and make a difference, visit wearencs.com and register today! Don't worry this won't stop you from doing the autumn 2020 or summer 2021 programmes.
June 2022
| M | T | W | T | F | WE |
| --- | --- | --- | --- | --- | --- |
| | | 1 | 2 | 3 | 4 |
| 6 | 7 | 8 | 9 | 10 | 11 |
| 13 | 14 | 15 | 16 | 17 | 18 |
| 20 | 21 | 22 | 23 | 24 | 25 |
| 27 | 28 | 29 | 30 | | |