Enrichment
Enrichment
New for February 2021
(School closure - virtual Enrichment Provision)
At Newark Academy we continue to be committed to providing our students with as many curriculum and wellbeing enrichment opportunities as possible. As such, we have created 'Enrichment Menus' for both our KS3 and KS4 students with specially created and tailored opportunities for all students to engage in.
Please click the relevant links below to find our 'Enrichment Menus':
We will also be awarding prizes of to our students who engage the most in enrichment so please make sure you complete the form below in detail to record your engagement and tell us what you think!
Take care and stay safe everyone.
Overview
At Newark Academy we are committed to providing all students with a rich and balanced education. A significant aspect of this, and one we are rapidly developing, is to ensure all students can access a diverse range of high quality enrichment activities.
We are thrilled to be working directly in partnership with a variety of widely respected organisations such Inspire Youth Art, Active4Today & YMCA to deliver a full and varied programme of activities.
Over the first half term of this year we have been working hard to ensure that all students at Newark Academy have the opportunity to engage with as many enrichment activities as possible whilst managing the health and safety of our young people in the current climate. We are pleased to be able to offer a wide selection of staff led enrichment both at lunch time and after school, but starting from Monday 2nd November 2020 we are happy to also announce that some of our amazing external providers are back to provide even more opportunities for students to further their personal development. Please be sure to check our the latest enrichment timetable to see where and when these sessions are taking place (click here).
Enrichment During Lock Down
The sudden change to our lives recently can be quite overwhelming and it's really important to keep active and keep doing the things you enjoy, to promote good mental health and well-being.
Therefore we have been working with some of our external enrichment providers to put together a series of sessions that students (and families!!) can access from home.
Black Thunder Street Dance (Inspire Youth Arts)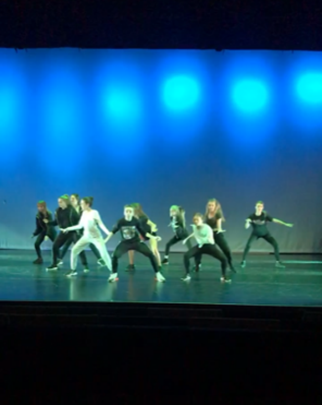 Jasmine Eccles has been working with our students for a number of years now and has successfully led the team through many auditions and showcase performances.
I can't put across how lucky we are to have our students working with Jazz as she is extremely busy in her own career having worked on projects with world famous artists such as Little Mix, Dua Lipa, Stefflon Don and you may also spot her in the recent Disney Film, Aladdin!
Jazz is putting together a series of weekly tutorials for ALL students to access, whether you're a part of the Black Thunder team or whether you're a complete beginner.

You can check out the tutorials on either Jazz's Youtube Channel or on her new webpage, all details are on the below flier.
Community Art Club (Elaine Winter / Notts CC LIS)

Elaine Winter has been involved with Newark Academy for a very long time now on various community projects, but she has been running the Community Art Club for 5 years now and they have been involved in working with Beaumond House, The Oaks Care Home, Reach and other community organisations.
Elaine will be uploading sessions onto her website each week on a Wednesday and ANYONE is welcome to have a go and get involved! Please check out the details on the below flier.

YMCA Music sessions (Inspire Youth Arts)
Over the past 18 months Eddy Mentzel has been part of a team delivering music industry sessions to students at Newark Academy.
They have worked on many projects with a focus of leading towards community performances. The team performed last year at the Newark Festival and did an amazing job!
Eddy will be creating a new session each Thursday. All sessions will be uploaded to this web page or if you let Mrs Brown know that you want to take part, the sessions will be emailed directly to you! abrown@newarkacademy.co.uk
Please click here for session 1.
Please click here for session 2.
Please click here for session 3.
Please click here for session 4.
Please click here for session 5.
Please click here for session 6.
More sessions released soon!
Be sure to keep checking this page of the website for more enrichment activities for students to access during lock down. NewArts Contemporary Dance sessions will be coming soon!
Let's podcast DANCOP please click the link.
Let's Pitch it Family DANCOP please click the link.
For any comments or questions on enrichment, please email Mrs Brown abrown@newarkacademy.co.uk
Related Downloads
June 2021
| M | T | W | T | F | WE |
| --- | --- | --- | --- | --- | --- |
| | 1 | 2 | 3 | 4 | 5 |
| 7 | 8 | 9 | 10 | 11 | 12 |
| 14 | 15 | 16 | 17 | 18 | 19 |
| 21 | 22 | 23 | 24 | 25 | 26 |
| 28 | 29 | 30 | | | |