Welcome to Newark Academy
At Newark Academy we are highly aspirant and ambitious for our students and our community. We are committed to providing an outstanding, local education and are relentless in our pursuit of high standards of academic achievement and excellence for all.
As part of the Nova Education Trust, Newark Academy benefits from the partnership and support of a leading educational trust with a proven track record of delivering outstanding education provision.
It is my privilege to be the Head Teacher at Newark Academy, where we exist to provide our children with an education that ensures both great achievements and a good character.

We have both the great privilege and the great responsibility of working with children to help them transform their lives. This academy achieves outstanding academic results, year after year, that place us amongst the highest performing schools in the local area.

We are an inclusive school where we welcome children from a variety of starting points. We believe that children, regardless of their additional needs, should be included in all aspects of the academy's work. Our dedicated teams work closely with students and families to ensure they get the right support to flourish.

If you would like to visit the academy, or have any questions, please do not hesitate to contact me.

Inma Peňa

BS, PGCE, NPQH

Head Teacher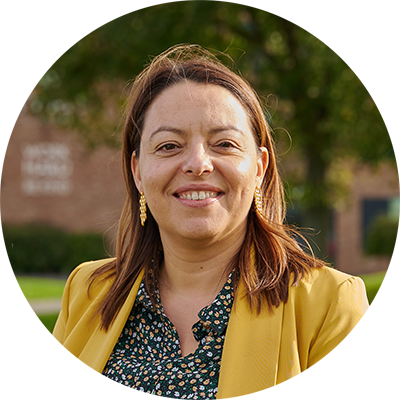 Our Vision
We have the highest expectations of both staff and students in all aspects of academy life and demand nothing but the best. Through strong discipline and outstanding teaching, every student will be supported to achieve success and realise their full potential.
We are committed to providing stimulating, challenging and engaging learning experiences that ignite imagination and a thirst for knowledge in our students. We invest heavily in staff development to ensure that Teaching, Learning and Assessment are very much at the heart of everything we do.
Whilst academic excellence is important, we are equally passionate about developing students as lifelong learners and promote core values of hard work, courtesy, co-operation and service. We provide a safe, secure and nurturing environment where every student is cared for and supported to become a well rounded and respectful citizen, fully prepared to make a sustained and substantial contribution to both the local and global community.
Please take time to explore our website. We encourage visits to our state-of-the art Academy building, particularly during the day where you will meet some of our talented and dedicated students and staff who are all immensely proud to belong to Newark Academy.
Gratitude
We take the time to show thankfulness and appreciation to those who help us along our way. We have social and emotional intelligence and show kindness to others on our journey to both academic and personal success.
Responsibility
We hold ourselves to account in how we act and treat others, living self-control. We honour our commitments to ourselves, our families and our community. We earn our success through our understanding of our responsibilities.
Excellence
We hold ourselves to high standards and celebrate with zest, the achievements of ourselves and others whether they be team mates, family or members of our community. We are continually reflective and constantly strive to grow as learners and as members of our local and global communities and set new and challenging goals that enable us to always aim high.
Aspiration
We set aspirational goals for ourselves and are relentless in our efforts to realise our dreams. We embrace our opportunities and work hard to achieve our aims and goals so that we can live choice filled lives and contribute positively to society.
Tenacity
We do not allow obstacles or barriers to block our path to success. We show resilience, grit and determination to face challenges positively. Where there is a problem, we find a solution. We will show an unrelenting commitment to realising our dreams by never giving up and always seeking a way to achieve success.
"Newark Academy is a true community school and one that exists to provide a 'GREAT' local education to the children and families of Newark and the wider surrounding area. These GREAT values sit at the heart of the academy and through the mantra of 'work hard; be kind' students excel in an environment where 'ambition thrives'.

As you would expect, standards and expectations are unashamedly high in all aspects of academy life. Every day, in every lesson, students are expected to give their very best in everything they do —always.

In return, students receive unrivalled care and support as well as exceptional teaching from highly enabled subject experts delivered through a broad, balanced and highly ambitious curriculum.

Whilst academic excellence is a critical component of academy life, so too is the development of character and moral virtues that form the basis of our pastoral 'crew' programme complimented by extensive enrichment and after school activity that take full advantage of the state of the art sport and creative and performing arts facilities that the academy boasts.

Parents, carers, colleagues, regularly visit to experience first-hand, the warm, caring, and compassionate culture that exists at Newark Academy and why it is a truly unique community school.

Please do come and see for yourselves just how special Newark Academy is and how exciting it is to work and learn at a 'GREAT' local school for local children and families."

Andy Seymour

BA (Hons), PGCE, NPQH

Executive Head Teacher