Latest News
Latest News
Newark Academy Remembrance Week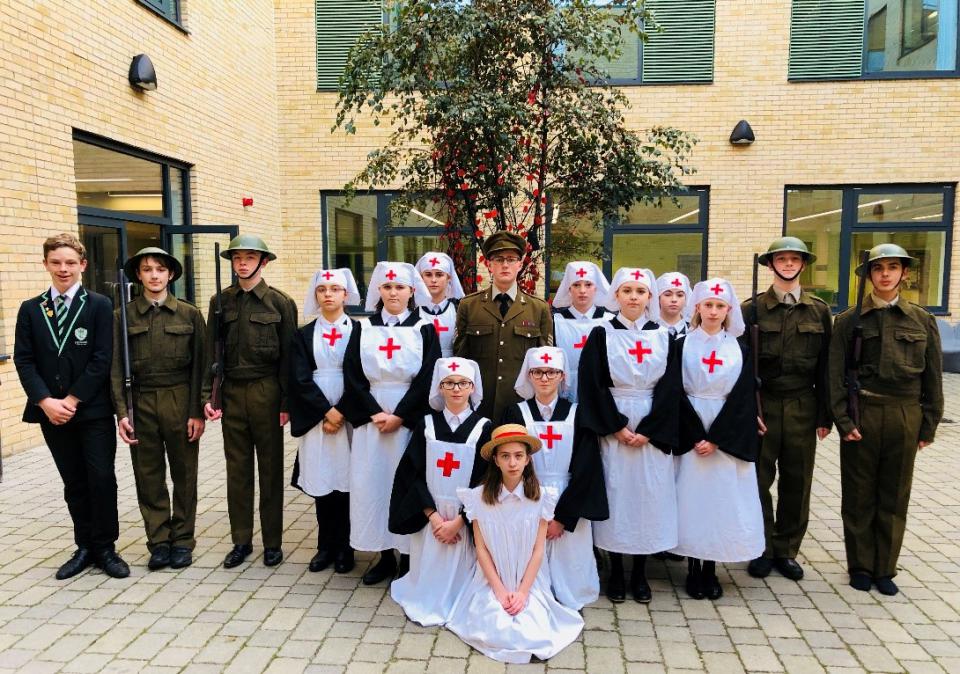 This week there have been three Remembrance Assemblies by students from Newark Academy to mark the soldiers who gave their lives during The Great War conflict.
The piece, 'The Last Hero' was performed by students from Newark Academy and was based on the last British soldier, George Edwin Ellison to be killed in action ninety minutes before the Armistice came into effect on 11th November 1918.
On Friday 10th November members of The British Legion and Oaks Elderly Residential Home visited Newark Academy and attended one of the assemblies.
Sally Goodman, a teacher at Newark Academy played 'The Last Post' at 11.00am on Friday 10th November 2017 in Newark Academy Courtyard where all students and staff observed one minutes silence.
Names of performers; (not all pictured)
Robyn Flanagan, Sophie Hibberd, Emily Hibberd, Jess Flanagan, Amelka Nowatkowsa, Ella Mahon, Eleanor Warwick, Elizabeth Gibson, Hannah Davidson, Sophie Rouse, George Bourke, Callum Mackin, Rowan Hunter, Aidan O'Donoghue, Jack Bailey, Madi Stephens, Lucy Eagles, Callum Ellwood.
Thanks to Newark Academy staff members, Sally Goodman for playing 'The Last Post' and Katie Vause who were both integral to the Choir arrangement during the piece and to Callum Ellwood, Yr10 GCSE Drama student, Lighting Designer.
January 2019
| M | T | W | T | F | WE |
| --- | --- | --- | --- | --- | --- |
| | 1 | 2 | 3 | 4 | 5 |
| 7 | 8 | 9 | 10 | 11 | 12 |
| 14 | 15 | 16 | 17 | 18 | 19 |
| 21 | 22 | 23 | 24 | 25 | 26 |
| 28 | 29 | 30 | 31 | | |