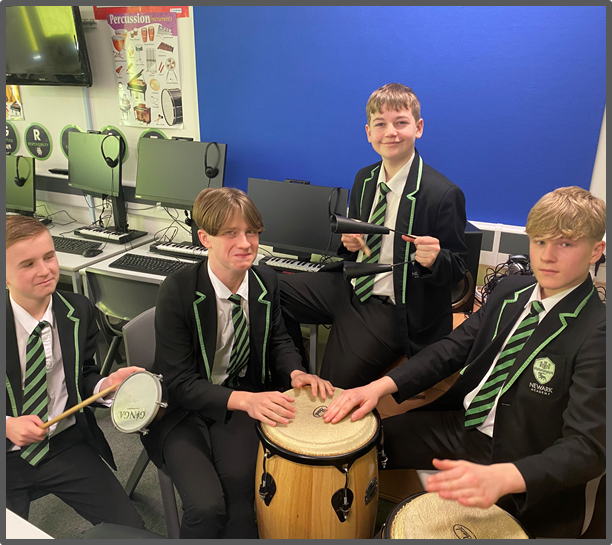 Our Year 9 music students are continuing to enjoy and explore our music curriculum and in particular, African Drumming. Students have enjoyed 'hands on' opportunities with drums such as, Djembes, DunDuns and Congas, all of which continue to prove a real highlight in our learning.
Daniel, Finley, Joseph and Jacob have been busy incorporating various techniques, such as 'bass, tone, slap' into their composition. Working in musical groups not only supports students' musical development but also encourages leadership skills to be used effectively to help coordinate a performance.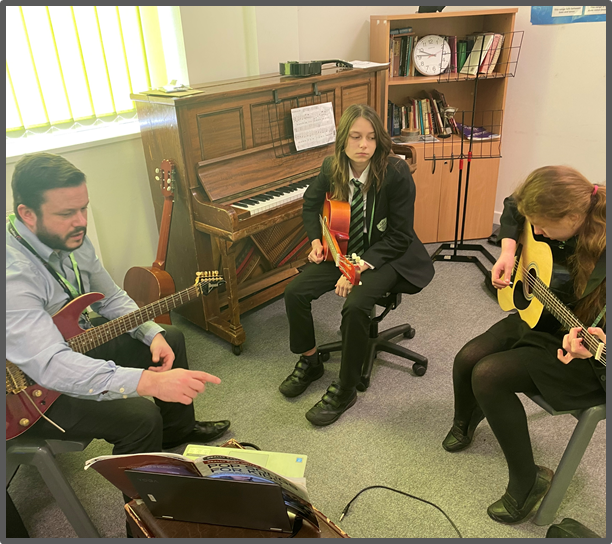 Noa and Crystal are certainly making great progress in their weekly guitar lessons. Mr Tryner, our Inspire Music Professional, is delighted with the work both students are completing and how quickly they are developing as guitarists.
Crystal and Noa recognise that 'practice makes perfect' and frequently visit the music department outside of their lesson to spend extra time revisiting what they have been taught during their lesson.
Brilliant work both, well done!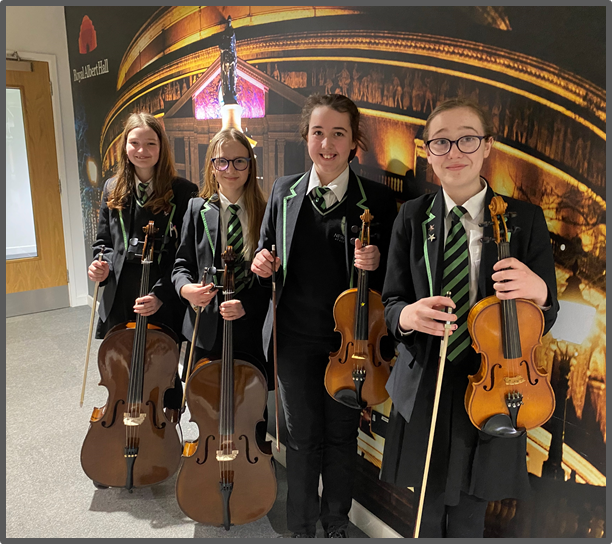 Our Academy Orchestra string section is certainly growing. Sophie and Isabelle (cellos) are always busy either practicing duets together or digging deeper into our orchestral music, whilst Emily and Ellouise (violins) are working on establishing a secure position and hold of their instruments. All the work our students are completing will allow them to become more rounded and able musicians of the future!
Our string students enjoy their lessons each Wednesday, however these are not the only lessons that take place in our busy week of music. Brass instruments, such as trumpets and trombones are covered each Friday morning which precede our wonderful woodwind players. We also have some fabulous drummers who receive their lesson each Wednesday morning, all of whom are currently preparing to perform in our summer concert(…date to be confirmed!)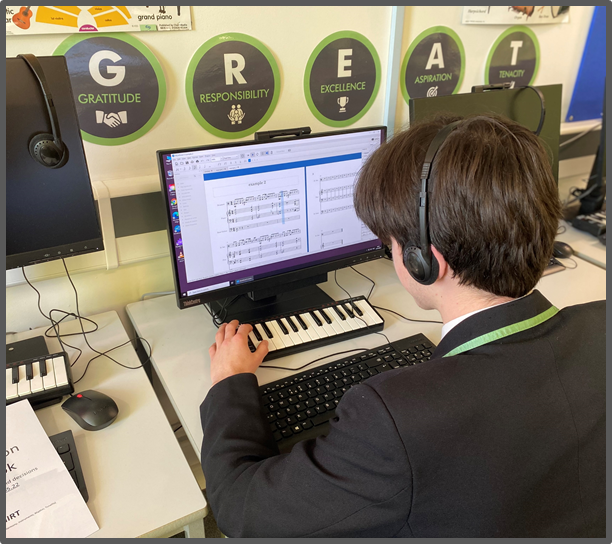 Studying music at GCSE is a new and exciting opportunity available at Newark Academy. Students following the course are required to compose a free composition along with a further piece of music, set to a brief stipulated by the examining board.
Kiva (year 10) is a talented composer who thoroughly enjoys our Wednesday morning classroom sessions which provide a regular opportunity to update and develop musical ideas using the latest music software.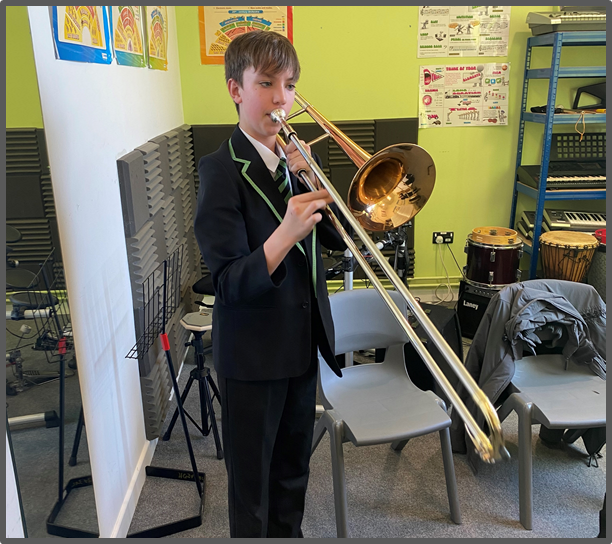 Henry (year 7) has certainly 'hit the ground running' since joining the Academy in September. Henry is already an advanced musician who enjoys Drum and Trombone lessons each week. Henry is a key player in our Academy orchestra and enjoys organising all aspects of the percussion and rhythm section, As the principal percussionist in our Academy orchestra, Henry ably organises all aspects of the percussion section.
Henry thoroughly enjoys all aspects of music and live performance. He frequently attends west end shows and other live events across the country. Henry has enjoyed performances at the London Palladium and has recently experienced the Cirque du Soleil.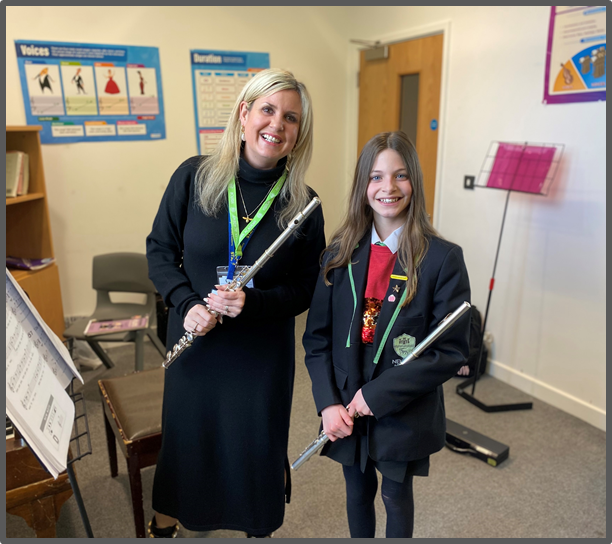 Lucy (year 7) is thoroughly enjoying studying the flute. She is making tremendous progress in her weekly lessons and Mrs Whitehead, our visiting woodwind teacher, is also delighted with how committed Lucy is to her own development. Lucy is a founder member of our Academy orchestra and flute section.
Lucy is hoping to undertake her Grade 1 flute exam in the next couple of months which is an outstanding feat, especially given the short time she has been studying the flute. Aside of her flute playing, Lucy is a particularly busy member of our orchestra, helping to manage our growing music library. Well done Lucy – superb work and use of our GREAT values.