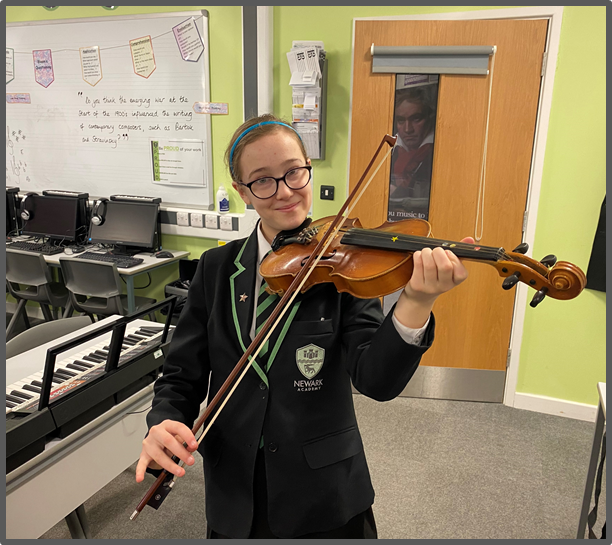 It has been fabulous to welcome Ellouise (Year 7) to the music department to begin violin lessons. Ellouise is a talented and natural musician who has made a fantastic start in Academy music.
Ellouise is hoping to improve her playing quickly and has already applied to join our Academy orchestra!
Well done Ellouise – great to have you on board!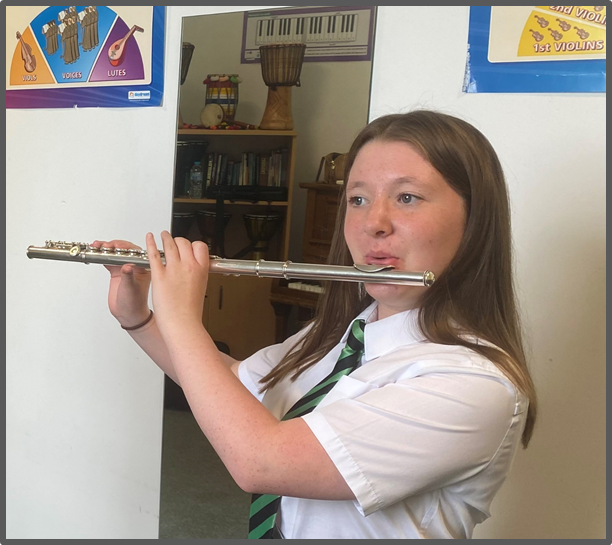 Alice (Year 9) has made a tremendous start in studying the flute and to her credit, is already studying music at Grade 1 level. Alice has proved she is a natural and very gifted musician who brings lots of positivity to her playing.
Alice is a very organised and efficient learner in all she does and has been able to apply her excellence to her flute playing. Alice is a truly valued member of our Academy Orchestra and flute section.
Excellent work Alice – you are a superstar!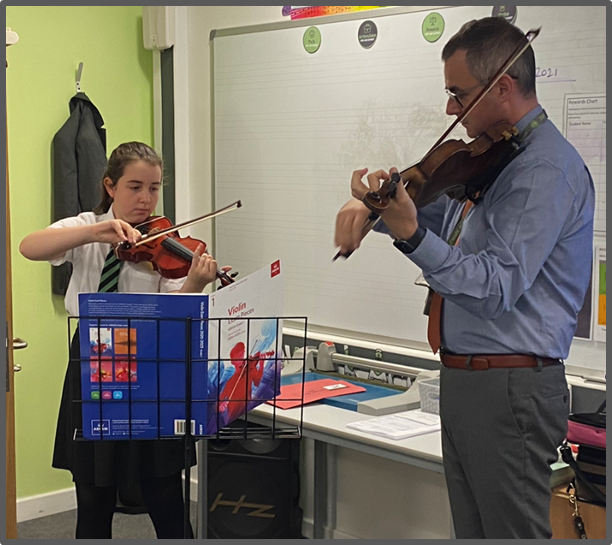 Emily (Year 8) is a super player and great violinist. She has led our Academy Orchestra brilliantly whilst mastering her own skills as an instrumentalist.
Emily is currently studying for her Associated Board Grade 1 examination which she hopes to take in the summer term.
Emily arrives punctually each Thursday morning for her violin lesson and enjoys practicing her own music and some of the exciting pieces performed in the Orchestra.
She is exceptionally good at playing the music of James Bond!
Well done Emily!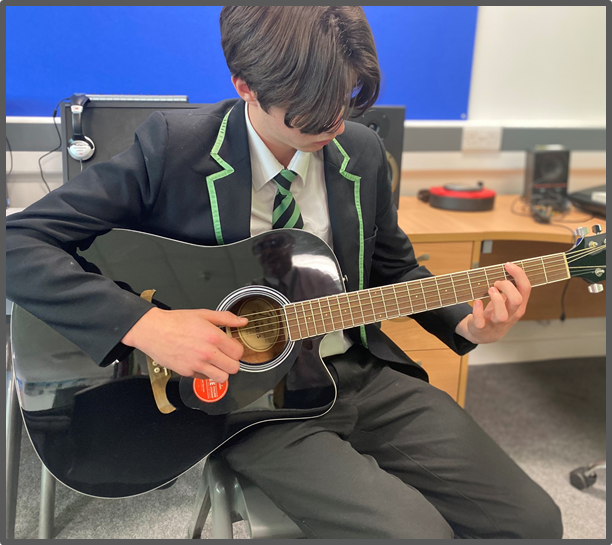 Kiva is very welcome at Newark Academy and has already got involved in a number of musical opportunities. Kiva is one of our year 10 GCSE Music students and is an extremely talented guitarist and drummer to boot! Kiva enjoys composition and is currently developing aspects of his coursework ready for submission.
Kiva is getting more involved in music opportunities at the Academy and as he looks to year 11, will undoubtedly take a greater role in some of our enrichment opportunities.
A brilliant start Kiva – very well done.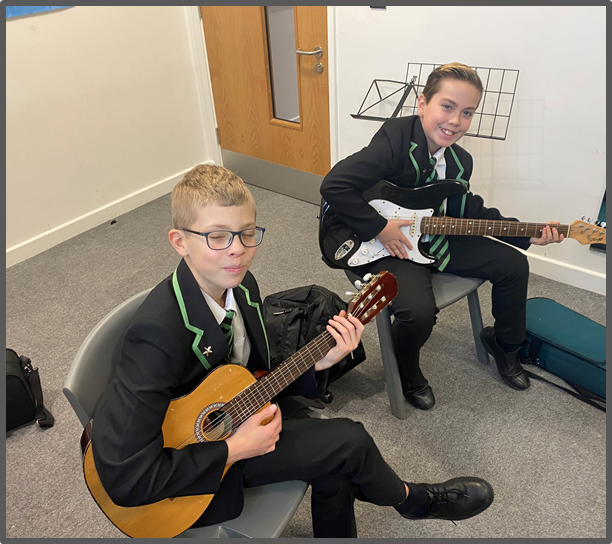 Tuesday mornings are for guitar and Eli and Lewis (Year 7) certainly have all bases covered! They have each made a great start in their guitar pursuits with reports from our resident guitar teacher, Mr Trynor being nothing but brilliant!
The boys are tackling grade 1 level music and impress everyone who sees and hears them. Typically, they ensure they bring a very positive attitude to learning, which coupled with our Academy GREAT values sees them succeed each week.
Fabulous work Lewis and Eli. You are guitar superstars!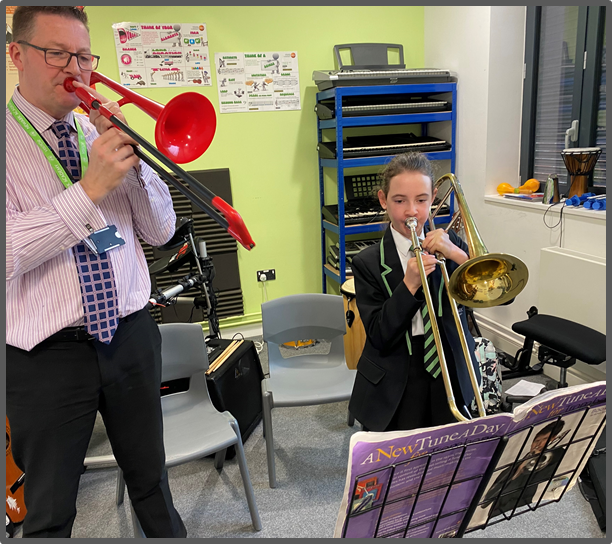 If you need a talented trombonist, look no further than Paige in Year 7…she is an exceptional player and fabulous musician. In celebration of her expertise and skill, Paige has been awarded the furthering talent instrumental award from the Inspire Music Hub.
Paige takes her place in our Academy Orchestra each Tuesday and is a great team player. She routinely 'rolls her sleeves up' and helps with the setting up of equipment, which is all part of what makes our orchestra run efficiently.
A brilliant start Paige – congratulations!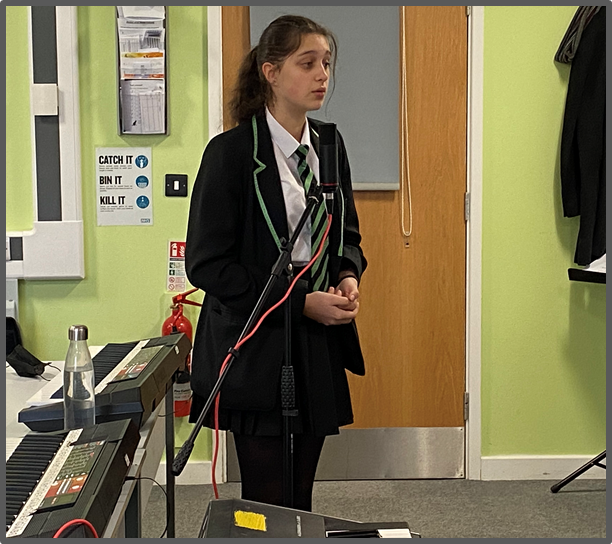 Chloe (Year 10) is an extremely talented vocalist and musician. She is well placed as part of our GCSE Music course and is seen here recording a vocal solo as part of her ongoing preparations.
Chloe always adopts a can-do attitude and will always do all she can to guarantee success. This can be seen in the vocal masterclass lessons Chloe continues to undertake with our Vocal professional and visiting teacher, Mrs Perkins.
Chloe is a focussed learner and superb performer. She is currently preparing for our summer concert where she will perform to a packed theatre and in doing so, show how very talented and skilled she is.
Chloe's dedication and focus leads her clearly to the path of success. Fabulous as always Chloe – well done.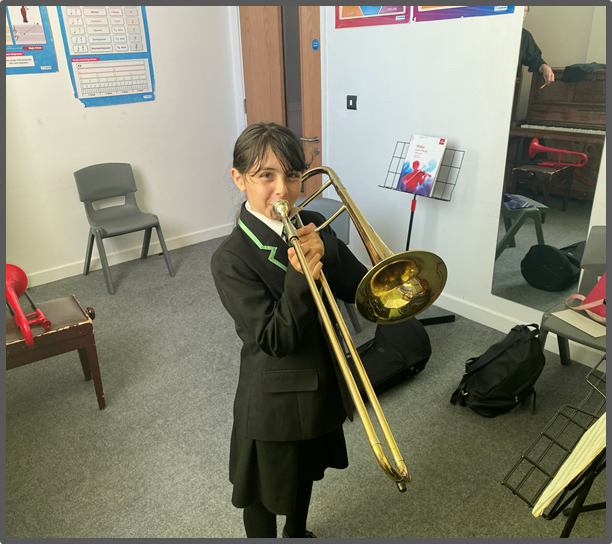 You may have seen Tayla (Year 7) with her trombone. She carefully organises her daily routine allowing her to cycle to school and bring her instrument. Tayla is the custodian of the 'Furthering Talent' award from Inspire and receives extended lessons along with participating in numerous external musical events.
Tayla loves playing in the Academy orchestra and has a firm place in our trombone section. Despite only recently joining the Newark Academy, Tayla already has her eyes fixed on pursuing GCSE Music.
Superstar – its that simple! – well done Tayla.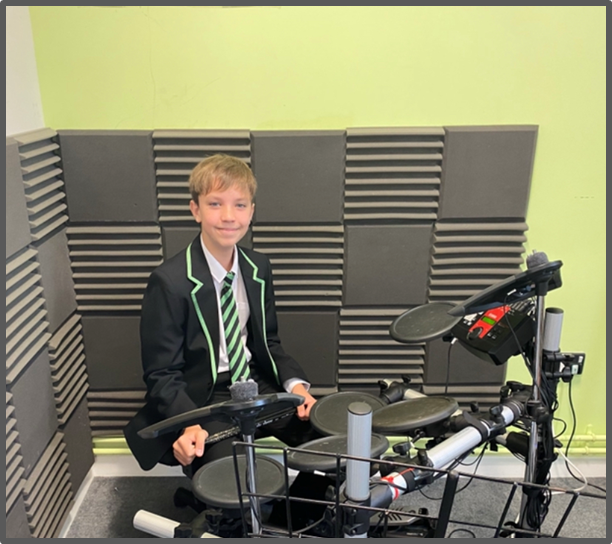 Henry (Year 7) has hit the ground running, making a fabulous start in all things Academy music. Henry is a very talented and skilled drummer and trombonist and takes lessons each week.
Henry's musicianship shines through in the classroom where he enjoys tacking both music history and keyboard playing with ease.
Henry is a key member of our Academy Orchestra, driving the music forward with pace and energy. Henry is a precision player with his accuracy and musical focus underpinning everything he plays.
Congratulations Henry – you are tremendous!